The Microsoft Dynamics CRM for Outlook Client (Add-In) provides a link between your Office applications (Outlook, Word, Excel) and Dynamics CRM / MiiiA.
The Outlook Client provides us the ability to:
Sync Appointments from your Outlook Calendar & Email from your Inbox




Link to Microsoft Office applications like Word for Mail Merge


IT Provider Assistance
We suggest you seek assistance from your IT provider to install the Outlook Client on all user machines.
While it's not difficult to do, there may be network or other security permissions to deal with when installing applications on your machine.
This should be carried out when any new pc/laptop is setup & built for your business.
System Requirements
A Microsoft Dynamics CRM for Outlook installation requires for the following minimum system components. Actual requirements and product functionality may vary based on your system configuration and operating system.
1.9 GHz or faster x86 or x64 dual core processor with SSE2 instruction set
4GB Memory (8GB Recommended)
2GB free hard disk space
Minimum screen resolution of 1024×768 recommended
Software Requirements
Windows 10, 8.1 or 8 (64-bit & 32-bit versions)
Windows 7 Service Pack 1 (64-bit & 32-bit versions)
Windows Server 2012 & 2012R2 (when running as a Remote Desktop Services application)
Microsoft Office 365, 2016, 2013 or 2010 (64-bit & 32-bit versions)
Internet Explorer 10 or 11 (must be installed & running on the system)
Latest Version
Critical
Please maintain the latest version of this Outlook add-in to ensure compatibility, security and best reliability
Please contact us for links to the latest version of the installers, including the most up-to-date patches & fixes.
32-bit or 64-bit?
To determine which Outlook Client installer file you need to use, on each machine, follow the below steps to check if your Office is 32-bit or 64-bit:
| | |
| --- | --- |
| for Microsoft Office 2013 / 2016 | for Microsoft Office 2010 |
| | |
| | |
| | |
| | |
| | |
| | |
Installation Steps
Run the appropriate Installer file
(Right-Click & "Run as administrator" if possible)
CRM20XX-Client-ENU-amd64.exe (64-bit installer)
CRM20XX-Client-ENU-i386.exe (32-bit installer)
Choose a folder to store the installer's extracted files
If need be, make a new folder "TEMP" on your C:\ Drive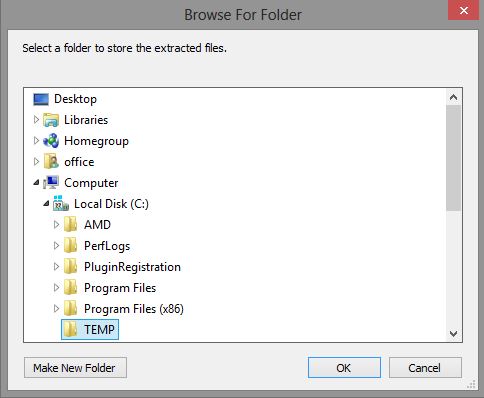 Select the folder & Click OK
Wait for the extraction to complete
Installation will begin automatically

Accept the License Agreement & Click Next
If you wish to install Offline Mode click Options
This is not required/recommended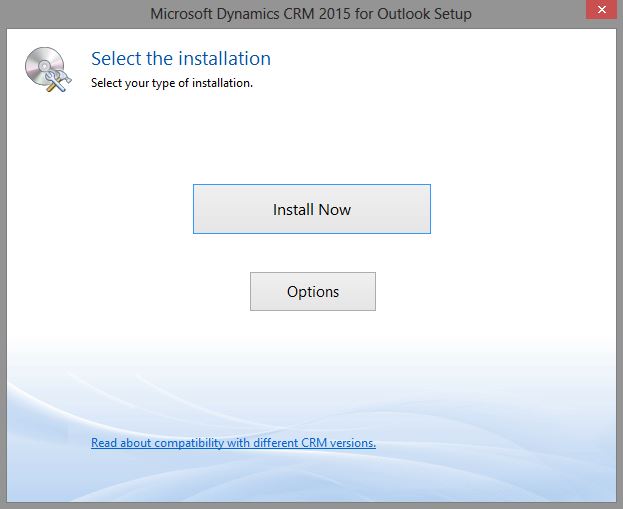 Wait for the Installation process to finish
Once complete, Click Close