You may find duplicate Contacts from time to time. These could be a result of inadvertent mistakes or just messy data.
To merge these records together will keep things tidy, and make sure your data isn't scattered.
Tip
When you merge two records together, all child-records (Activities, Files, Policy Numbers etc) are moved to the record you keep
Locate The Contacts
Navigate to SALES > CONTACTS using the Navigation Bar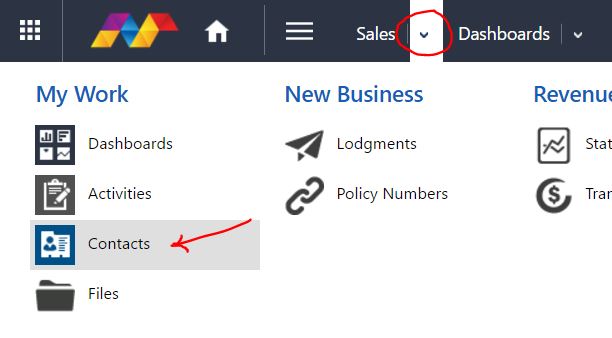 Use the Search bar (if required) to find the Contacts

In this example, I have a duplicate Contact with a slight misspelling

Select & Merge
Tick both Contacts
Click the Merge button

Info
You can only select/merge two Contact records at a time
Tip
To merge more than two records, start with the first two, then simply repeat the process as required
Side By Side
The Merge Records window shows the two Contacts side-by-side for comparison.
You will need to decide which record you will keep. Often this will be the one you deem is "more correct".
Info
The first/top record you selected is shown on the Left-side, and the second/bottom is shown on the Right-side
Select the Master Record to elect to keep that record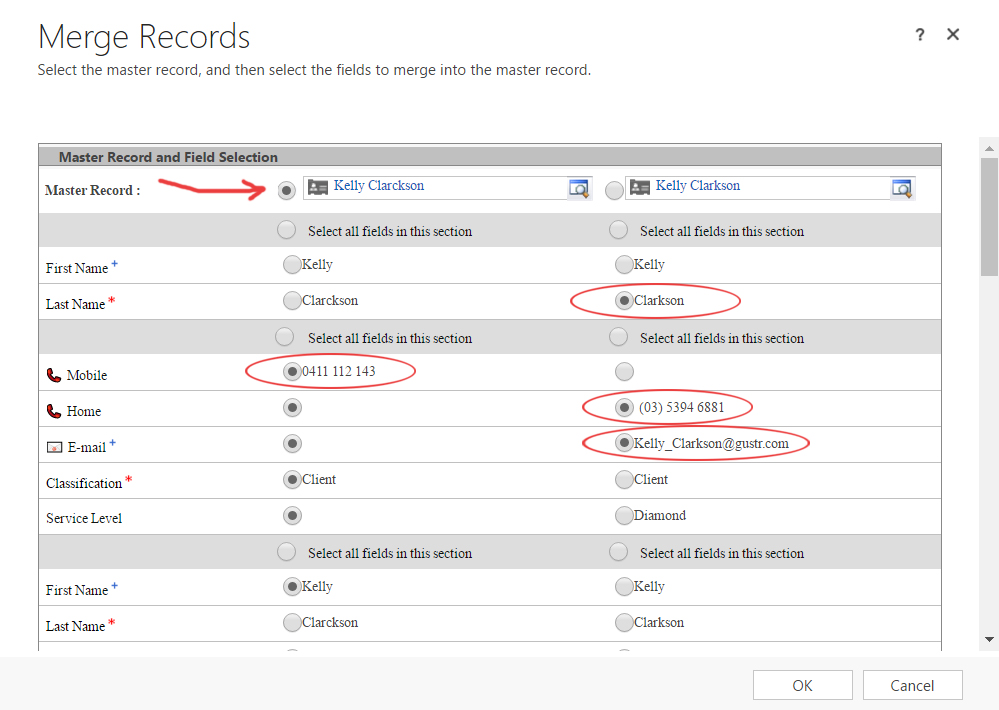 Info
By selecting a Master Record, all fields for that record are selected to be kept by default. You have the option of choosing data from the other record if it's "better"
In the example above we have selected the LEFT record as our Master.
The spelling of the Last Name on the RIGHT was the correct value to keep.
Notice the Mobile Phone default is good, no need to change to the RIGHT value as it's blank.
The Home Phone & Email on the RIGHT should be kept, so select them to keep for the Master.
Once you are happy, Select OK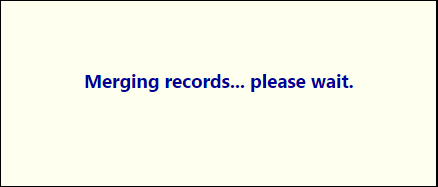 After merging the subordinate record (the one you aren't keeping) is deactivated
Info
The deactivated record has the words (MERGED) added to the end of their name
Caution
Deactivated and merged Contacts are "empty records" and will be kept for a period of time before purging