Marketing Lists allow you to create curated lists of Contacts that act as a target for your marketing activities.
Caution
You may require elevated priveleges to access certain Marketing functions
Static vs Dynamic
There are two types of Marketing Lists, both useful depending on the scenario.
Static
Static lists are created by adding/removing members yourself, and never change.
eg. "Contacts you've selected for an invite to an event"
eg. "Hand-selected list of Contacts for an Email send"
Tip
You can manually edit these lists to fine-tune them, and serve as a historic snapshot
Dynamic
Dynamic lists are generated from a query, and change in real-time based on the conditions of that query.
eg. "all Contacts where Age is greater than 55"
eg. "all Contacts where Service Level is Silver"
Tip
You can't manually edit these lists, they are populated by the defined query criteria.
eg If someone turns 55 years of age they will automatically appear on this list.
Create a New List
Select the Work Areas button in the navigation bar
Select Marketing and Marketing Lists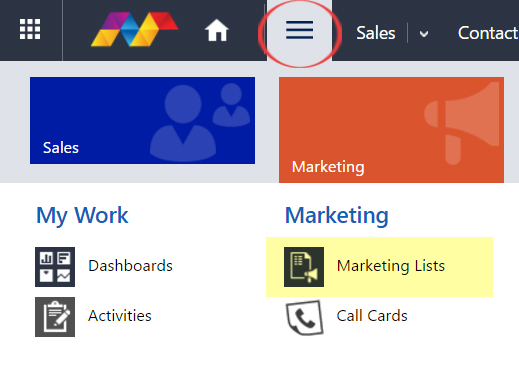 Tip
Use a naming convention as you will end up with lots of lists.
Keep the name short but descriptive, and use the date as a prefix.
eg. 2017-02-15 FEB Seminar Invites
Select a List Type (Static or Dynamic)
Set Targeted At = Contact
Click Save