You have the ability to connect Contacts which will help record and display some of the relationships, and inter-play that occurs in your database.
For example you can connect two Individuals together with a particular role like Spouse/Partner, Parent/Child or even Lawyer/Client. Or connect an Individual to an Entity with a role like Director or Employee.

You are able to connect Contacts of any Type (Individuals, Entities or Groups)
Connection Roles
Each time you connect any two Contacts together a role will need to be specified. The role describes the Contact's part in that two-sided relationship.
Some roles are linked to other opposite roles, for example selecting Contact A as Parent, will automatically select Contact B's role as Child.
The roles available will differ depending on what type of Contacts you are connecting

Tip
Connections are best-thought of from the perspective of the record you are viewing. eg If viewing Contact A's record, and I want to connect them to Contact B, ask yourself "What is Contact B to Contact A?"
Create A Connection
Open the CONTACT
Click Connect

The Connect FROM is already set as your selected Contact
Set the Connect TO as the target record
Specify the As this Role, for example = Spouse / Partner

Back on the Contact record the Connections tab displays the new Connection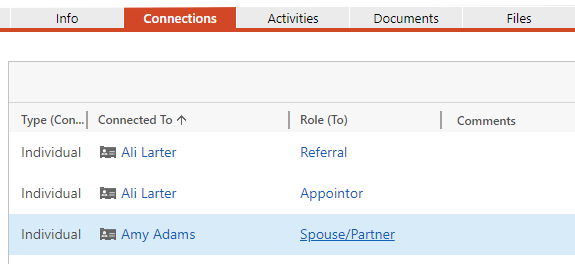 Connection Examples
Here are some examples of how you may consider connecting different types of Contacts.