Tiles are the content that will populate on the Tile Sets displayed using the solution.
What are Tiles?

Tiles are the physical buttons that have size, color, text and links
You will be creating Tile Sets that each have many Tiles within
When you click on a Tile it will pop open a new window (or tab depending on your browser settings)
Navigation
Go to SETTINGS > D365 Tile Sets

Open the Tile Set you wish to add to or edit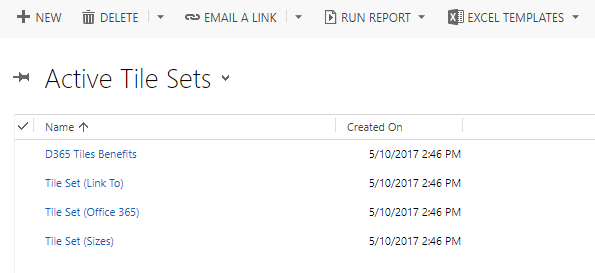 Click the button on the "Tiles" tab grid to add a new Tile
Tile Parameters
Tiles themselves are flexible in nature, while keeping it simple to produce useful results fast. There is a set of parameters to customize each Tile.
Sequence In what order the Tiles will display on your Tile Set left to right
Title The title that will be displayed
Tooltip The tooltip that will be displayed when hovered over
Size Square, Thin, Wide, Large
Color Color when hovered over (Hex Color picker available)
Icon Link to the Web Resource image for your icon
Link To Dashboard, View, Create A Record, Open Existing Record, External URL